Experiential Learning Made Possible by VisionGreenwood: High School Students in Building Construction Program Put Skilled Trades into Practice through "Tiny House" Project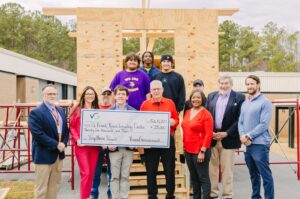 Greenwood, S.C. – (March 29, 2023) – VisionGreenwood, an established community partner dedicated to making Greenwood, S.C. the best place in which to live, work and raise a family, is funding a hands-on learning experience for high school students in the Building Construction program at the G. Frank Russell Technology Center (RTC), which services all three public school districts in Greenwood County. VisionGreenwood's Executive Director, Kay Self, joined by the non-profit's Board of Directors, recently had the opportunity to tour the inaugural "Tiny House" project-in-progress at RTC. VisionGreenwood donated $25,000 to launch RTC's Tiny House program.
"VisionGreenwood is intentional about identifying educational initiatives that help close workforce gaps, so we are very excited to partner with the G. Frank Russell Technology Center to help promote the abundant career opportunities in construction," said Self. "Through this grant from VisionGreenwood, high school juniors and seniors in the RTC Building Construction program are able to put their learning into practice while being mentored by local contractors representing various skilled trades. Best of all, the male and female students involved in the Tiny House project are getting a glimpse into a 'day in the life' of a construction tradesperson, whether it be carpentry, masonry, plumbing or electrical."
Brandon Smith, Mayor of Greenwood and Chairman of VisionGreenwood's Board of Directors, noted, "Clearly, there is a critical shortage of experienced workers in nearly every tier of the construction industry. Like many other communities, Greenwood needs and deserves an injection of skilled tradeworkers, such as carpenters, masons, electricians and more."
The Tiny House project, which kicked off during the previous school year, is well underway at RTC. The project is about 65 percent complete, with final completion targeted for May 19, 2023. The plan is to auction the Tiny House to the community as a way to continue this construction training in the 2023-2024 school year.
"We are very hopeful that this Tiny House project will attract more non-traditional students into RTC's Building Construction program – resulting in additional graduates over the next 10 years," said Jim Still, Director of the G. Frank Russell Technology Center.  
Chip Whitt, Work-Based Learning Coordinator for the RTC, elaborated on the Tiny House project, explaining "We are so appreciative of what VisionGreenwood is doing to help the students of Greenwood County through this initiative. When students complete the Building Construction program and earn their certificates, they are matched with Youth Apprenticeship partners. We believe this initial Tiny House project is the beginning of something really special."
Ken Rauton, RTC Building Construction Program Coordinator, added "Of the students who worked on the Tiny House project last school year, three were placed in apprenticeships in the community during this school year. The students currently working on the Tiny House project will be eligible to apply for an apprenticeship during the 2023-2024 school year. Our program is a win-win program for the students and local contractors."
Greenwood-area companies that partner with the RTC Building Construction program through apprenticeships include Uldrick Builders and Impresa Building Systems. For the Tiny House project specifically, Mathis Plumbing came on site to help students install the plumbing, and a licensed electrician is scheduled to come help students with the house's electrical wiring.
"At VisionGreenwood, we want the community to know that there are good paying jobs available in the construction industry – without college debt. Programs like this one offered by the G. Frank Russell Technology Center bring students and employers together. This is the kind of partnership that aligns with our mission: providing leadership to enhance the quality of life in Greenwood through strategic long-term vision and collaborative community development initiatives," said Self.
About VisionGreenwood
VisionGreenwood is a 501(c)(3) non-profit organization with deep roots in the Greenwood community. Throughout the past 20 years, VisionGreenwood (formerly known as the Foundation for a Greater Greenwood County, Inc.) has invested over $2.9 million into the community by supporting collaborative community development initiatives that provide economic prosperity and enhance the growth and success of Greenwood. The Foundation was originally created to support the former Greenwood Partnership Alliance's charitable operations with a focus on community and workforce development. The Foundation became a stand-alone organization in 2020 and was rebranded as VisionGreenwood in 2021. By intent and design, VisionGreenwood continues to be a community partner that is focused on Greenwood's future, economic growth and development and quality of life. Learn more at www.visiongreenwood.org.
About RTC and the Building Construction Program
RTC's Building Construction program is designed to prepare students to perform entry level building construction tasks under the supervision of a supervisor or an experienced craftsperson. Included in the course of study are instructions related to carpentry, masonry, plumbing, residential electricity and safety practices. This program of study is designed to prepare students for a wide variety of occupational opportunities. Students must see their school counselor for admission to this program at RTC.
In the months since the Tiny House project "broke ground," more than 100 students have taken various courses in RTC's Building Construction program – with 22 students to-date having earned a certificate of completion.
The G. Frank Russell Technology Center was established in 1968 and services all three school districts in Greenwood County. Students from Greenwood, Emerald, Ninety Six and Ware Shoals High Schools attend the school to learn about various career options. Students at RTC use lab settings to conduct hands-on activities to further their education and become prepared to have productive careers. Visit https://rtc.gwd50.org/ for more information.