Greenwood serves as a regional hub for healthcare services and is home to some of the top-ranked healthcare facilities in the country. With 314 physicians per 100,000 population in Greenwood, compared to the national average of 261, Greenwood has no shortage of doctors and expertise to meet the needs of the community.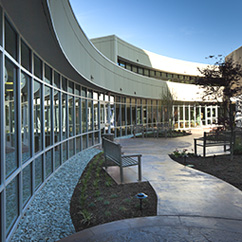 Self Regional Healthcare
Self Regional Healthcare is a not-for-profit, regional referral hospital that provides care to residents of the Lakelands. Services include prevention and wellness, acute, and tertiary care services including cancer care, neurosurgery, heart and vascular surgery, orthopedics, NICU, and genetics. The spine surgery program, rated among the top in the nation for medical excellence by CareChex® in 2011–2014, is supported by the first-in-the-South intraoperative BrainSuite.® This advanced neurosurgical program is one of just four in the country. Other new and updated services include 64-slice CT, PET-CT, 3-D vascular imaging, and a Level III Neonatal Intensive Care Unit.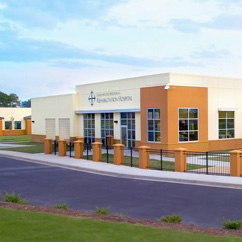 Greenwood Regional Rehabilitation Hospital
Greenwood Regional Rehabilitation Hospital provides rehabilitative services to people recovering from disabilities caused by injuries such as strokes, orthopedic, brain, and spinal cord injuries. In addition, treatment is provided for individuals who may have chronic illnesses such as cerebral palsy, ALS (Lou Gehrig's Disease), multiple sclerosis, or Parkinson's disease. Greenwood Regional Rehabilitation Hospital utilizes the latest technology in their therapy programs and has been nationally recognized for the last eight years as one of the Top 10% hospitals in the country for rehabilitative care.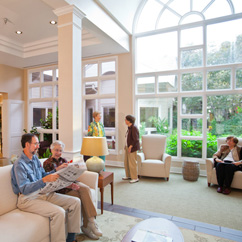 Wesley Commons
Wesley Commons is a master-planned, full-service continuing care retirement community (CCRC) located on more than 150 beautiful wooded acres in Greenwood, South Carolina. They offer a high-value retirement lifestyle with independent living, skilled nursing, special care, and rehabilitation services. Rated as "One of the best in 2014 by U.S. News and World Report," the Healthcare Center at Wesley Commons offers the highest quality of inpatient rehabilitation and skilled nursing available as well as an innovative approach to Alzheimer's and dementia care right on our campus, enhancing our already stellar reputation for compassionate care.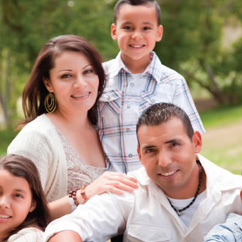 Self Medical Group
Self Medical Group is a network of primary care, specialists and hospital based physicians who work together to provide patients comprehensive healthcare. From a cold to cardiac care, these physicians provide access to the level of care you need. And, as affiliates of Self Regional Healthcare, they have access to the resources, diagnostics, and technology of a nationally recognized regional referral center serving the Lakelands of South Carolina. Self Medical Group is its employed physician affiliate network of 32 practices and more than 113 physicians.